Due too both radars excellent geophysical location, gives TIGER unique opportunities to study Geospace processes such as the Aurora Australis and related phenomena occurring in the ionosphere (100 to 300km) above the earth.



Since both radars are much closer to the south magnetic pole than the south geographic pole, this makes it an ideal location from which to monitor the interaction of the Solar Wind with the Earth's magnetic field. Its more northerly location relative to the other Antarctic radars also allows it to better monitor events that move northwards during magnetic storms and out of the view of the Antarctic based radars.





The TIGER radars are directly across the magentic pole from PACE, the British Antarctic Survey's SuperDARN radar at Halley, Antarctica. The TIGER - PACE will form a unique radar pair providing important simultaneous measurements of the aurora in the noon and midnight sectors.



The TIGER radar is based on the exisiting third generation HF radar constructed by the University of Leicester. The ionospheric physics group at Leicester remotely operates two of these radars in Finland and Iceland.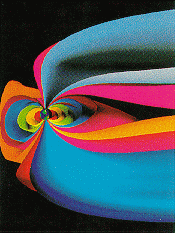 This short video clip, courtesy of NASA shows and explains visually how the solar wind affects our planet. magneticfield_mpeg.mpg(6.53MB)
The study of Geopspace is important in its own right and for the development of improvements in Space weather prediction. The Geospace enviroment is a vast region at the outermost boundary of the terrestial biosphere, extending from 60km above the Earth to millions of kilometers out in space. It encompasses the region where the solar wind interacts with the Earth's magentic field, coupling energy into the magnetosphere and ultimately into the ionosphere and neutral atmosphere.
TIGER's specific mission is to take remote measurements of the ionosphere over the Southern Ocean and Antarctica to study these solar wind-magnetosphere-ionosphere interactions and provide information for space weather predictions that will enhance civilisation's capacity in the:
management of communications, surveillance, positioning and navigation systems,
management of, and communication with, earth-observing satellite systems
management of long conductors (pipelines and powerlines)
conduct aeromagnetic surveys